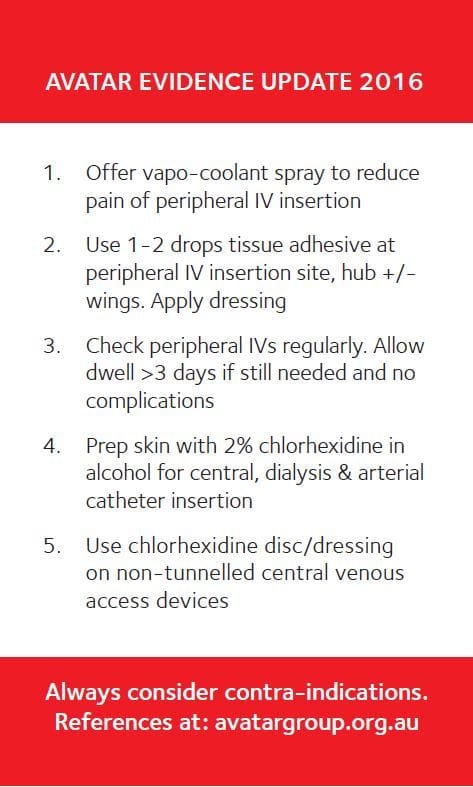 Evidence update 2016
1. Offer vapo-coolant spray to reduce pain of peripheral IV insertion
Ref: Griffith RJ, Jordan V, Herd D, Dalziel SR. Vapocoolants (cold spray) for pain treatment during intravenous cannulation. Cochrane Database Systematic Reviews 2016 Issue 4. Art. No.CD009484.doi:10.1002/14651858.CD009484.pub2
http://onlinelibrary.wiley.com/doi/10.1002/14651858.CD009484.pub2/full
2. Use 1-2 drops tissue adhesive at peripheral IV insertion site, hub +/- wings. Apply dressing
Ref: Bugden S, Shean K, Scott M, et al.
Skin glue reduces the failure rate of Emergency Department-inserted peripheral intravenous catheters: A randomized controlled trial
. Ann Emerg Med. 2016;68(2):196-201.
http://www.ncbi.nlm.nih.gov/pubmed/26747220
3. Check peripheral IVs regularly. Allow dwell >3 days if still needed and no complications
Ref: Webster J, Osborne S, Rickard CM, New K. Clinically-indicated replacement versus routine replacement of peripheral venous catheters. Cochrane Database of Systematic Reviews 2015, Issue 8. Art. No.: CD007798. DOI: 10.1002/14651858.CD007798.pub4.
http://onlinelibrary.wiley.com/doi/10.1002/14651858.CD007798.pub4/full
4. Prep skin with 2% chlorhexidine in alcohol for central, dialysis & arterial catheter insertion
Ref: Mimoz O, Lucet J-C, Kerforne T, et al.
Skin antisepsis with chlorhexidinealcohol versus povidone iodinealcohol, with and without skin scrubbing, for prevention of intravascular-catheter-related infection (CLEAN): an open-label, multicentre, randomised, controlled, two-by-two factorial trial
. The Lancet. 2015;386(10008):2069-77.
http://www.ncbi.nlm.nih.gov/pubmed/26388532
5. Use chlorhexidine disc/dressing on non-tunnelled central venous access devices
Ref: Ullman AJ, Cooke ML, Mitchell M, Lin F, New K, Long DA, Mihala G, Rickard CM. Dressings and securement devices for central venous catheters (CVC). Cochrane Database of Systematic Reviews 2015, Issue 9. Art. No.: CD010367. DOI:10.1002/14651858.CD010367.pub2.
http://www.ncbi.nlm.nih.gov/pubmed/26358142--