Arterial Catheters: The Basics
Posted by Lizzy Ostwald on 29 October 2021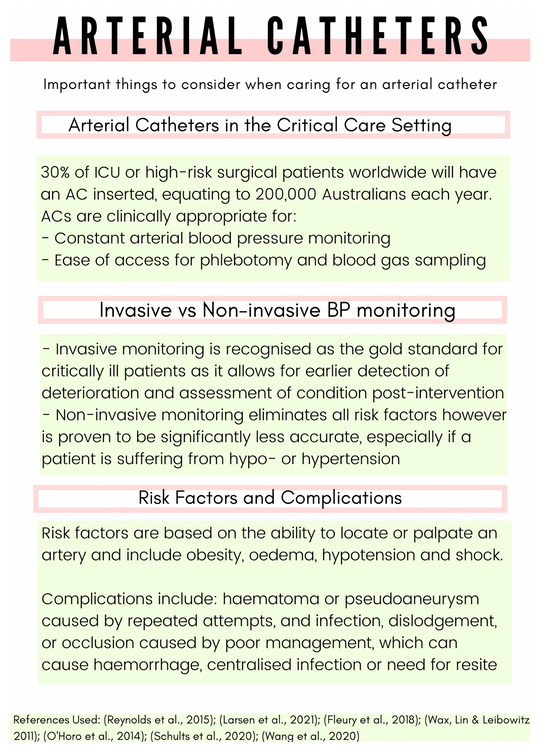 Every year, approximately 200,000 Australians will have an arterial catheter (AC) inserted in order for clinicians to gain a more comprehensive understanding of haemodynamic stability through ongoing blood pressure monitoring, access for phlebotomy sampling, and painless blood gas sampling1. Seen most commonly in the intensive care unit and operating theatre, these peripheral catheters are associated with significantly increased risks when compared to peripheral venous devices and as such must be handled with awareness of potential consequences2.
Invasive blood pressure monitoring is at times essential for critically unwell patients, allowing clinicians to analyse stroke volume, a patient's response to treatment, and be alerted to deterioration much faster3. A number of studies within intensive care units have explored the use of invasive versus non-invasive monitoring, with resounding indications that arterial catheter monitoring is significantly more accurate than non-invasive means, particularly if the patient is suffering from hypo- or hypertension4.
It is estimated that up to 60% of ACs require replacement as a result of complications, which occur as a result of poor securement resulting in dislodgement, dressings that allow for microbial infiltration, or occlusion of the device requiring replacement2,5. Other serious complications can include air embolism, thrombus, or skin necrosis, and can have detrimental impacts on the patient's condition, length of stay and overall wellbeing6. As such, clinicians inserting or caring for ACs need to ensure the lowest possible risk of complications in order to ensure optimal health outcomes.
References
Reynolds H, Taraporewalla K, Tower M, Rickard C. Assessment of dressing and securement techniques for peripheral arterial catheters: a narrative review. Vascular Access 2015;1(1):21-32.
Larsen E, Corley A, Mitchell M, Lye I, Powell M, Tom S, et al. A pilot randomised controlled trial of dressing and securement methods to prevent arterial catheter failure in intensive care. Australian Critical Care 2021;34(1):38-46.
Fleury Y, Arroyo D, Couchepin C, Robert-Ebadi H, Righini M, Lobrinus J, et al. Impact of intravascular thrombosis on failure of radial arterial catheters in critically ill patients: a nested case-control study. Intensive Care Medicine 2018;44(5):553-63.
Wax D, Lin H-M, Leibowitz A. Invasive and Concomitant Noninvasive Intraoperative Blood Pressure Monitoring. Anaesthesiology 2011;115(5):973-8.
O'Horo J, Maki D, Krupp A, Safdar N. Arterial Catheters as a Source of Bloodstream Infection. Critical Care Medicine 2014;42(6):1334-9.
Schults J, Long D, Pearson K, Takashima M, Baveas T, Schlapbach L, et al. Insertion, management, and complications associated with arterial catheters in paediatric intensive care: A clinical audit. Australian Critical Care 2020;33(4):326-32.
Additional Reference Used for Poster:
Wang A, Hendin A, Millington S, Koenig S, Eisen L, Shiloh A. Better with ultrasound: arterial line placement Chest 2020;157(3):574-9.