Vascular Access - Call for Papers!
Posted by Gillian Ray-Barruel on 17 June 2021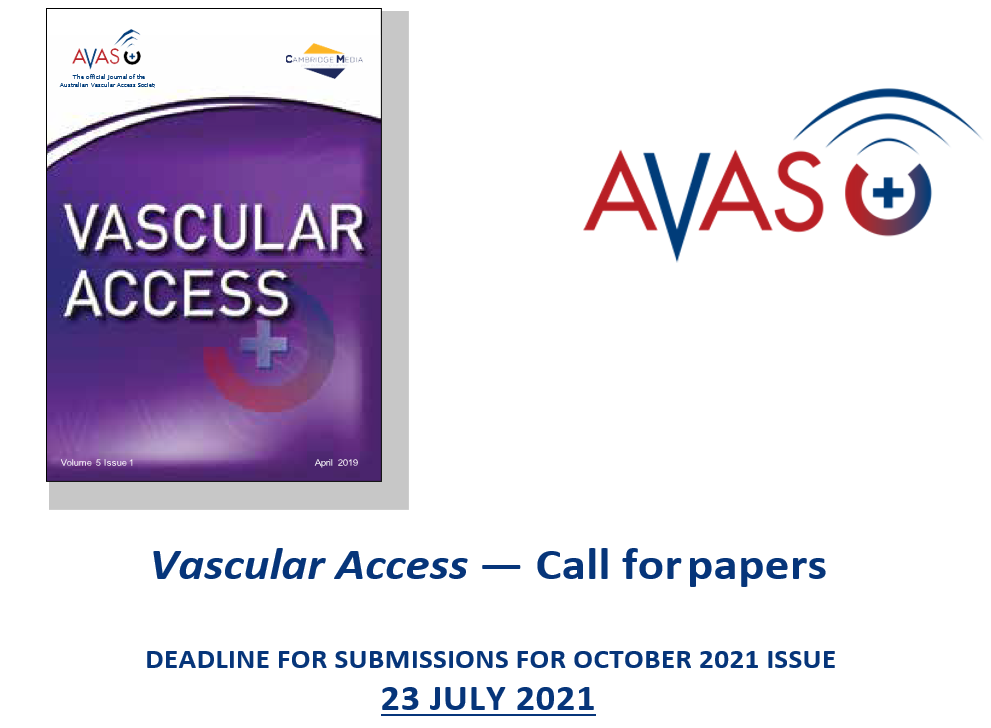 The Australian Vascular Access Society (AVAS) is an association of healthcare professionals founded to promote the vascular access specialty (http://avas.org.au/). Our multidisciplinary membership strives to advance vascular access research, promotes professional and public education to shape practice and enhance patient outcomes, and partners with industry to develop evidence-based innovations in vascular access.
The electronic journal Vascular Access is the official publication of AVAS, and provides a venue for national and international scholars and practitioners to publish high-quality, peer-reviewed research and educational reviews relevant to vascular access in Australia and globally. The journal also provides a space for evidence-based discussions and debate on issues of importance to patients requiring vascular access.
Vascular Access is published twice a year (April and October) and manuscripts pertaining to this specialty are invited. The editor welcomes manuscripts in the form of research findings, clinical papers, case studies, reports, review articles, letters and product appraisals. Video submissions are also welcomed. Submissions will be accepted from any country but must be in English.
For more information, please see the Author Guidelines or contact the Editor at info@avas.org.au

Author:
Gillian Ray-Barruel
About: Dr Gillian Ray-Barruel is a leading nurse researcher who coordinated the OMG Study which recruited more than 40,000 patients with PIVCs globally. Dr Ray-Barruel holds a joint appointment as a Senior Research Fellow at QEII Jubilee Hospital and Griffith University, Brisbane, Australia. She has extensive experience in vascular access devices research, critical care nursing, patient assessment, and project management. Dr Ray-Barruel is dedicated to improving assessment and decision-making by bedside clinicians to prevent patient complications and improve healthcare outcomes.
Connect via:
Twitter
LinkedIn