Free medical education website and app
Posted by Dr Todd Fraser on 3 July 2021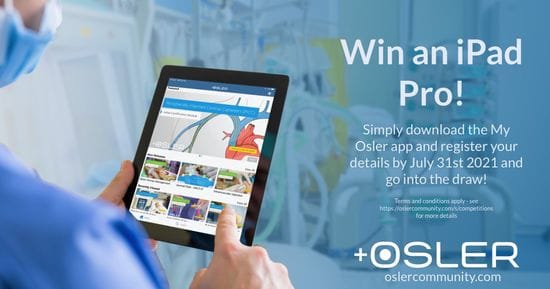 Are you a medical student, junior doctor, paramedic or advanced practice nurse wanting to brush up on your medical knowledge?
Osler is a platform designed to support medical students and junior doctors transition to life on the wards, as well as any healthcare clinicians who strive for excellence by ensuring they are best prepared to care for their patients.
Whether you're starting out as a student, or an expert in your field, whether you're a nurse, a doctor, allied health or paramedic, whether you work in primary care or intensive care, or anywhere in between, Osler has something for you.
It contains hundreds of FREE podcasts, modules, procedures, journal reviews, quizzes and articles, and is available in a Netflix-styled app.
Download the free My Osler app and register your details by 31st July 2021 to enter the draw for a chance to win an iPad Pro.
To find out more, visit: https://osler.app.link/1bA5LqpFrhb