Making it stick! A recap of VAD securement
Posted by Lizzy Ostwald on 26 July 2021
Being aware of appropriate securement techniques is essential when caring for a vascular access device (VAD). Whether arterial or venous, when a VAD dislodges, it becomes useless, which can lead to delayed treatment and prolonged hospital admission.1 As such, clinicians need to understand the importance of securement techniques that can prevent dislodgement and the subsequent possible complications.2
Suture-less securement devices are commonplace in hospital settings, seen most commonly in peripherally inserted central catheters and indwelling urinary catheters.3 Replacing the need for suturing VADs, these devices are easy to use, convenient to access, eliminate any risk of needlestick injury at the time of catheter insertion, and significantly decrease risk of infection when using sutures.4 As shown on the poster, they sit distal to the catheter dressing and can be changed when required.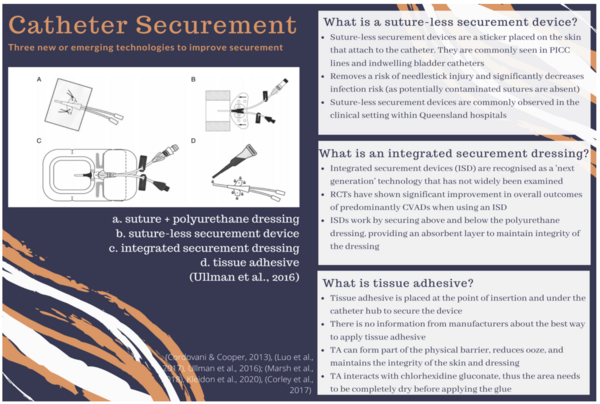 Traditionally, a VAD requires a primary dressing that acts as a barrier to microbial infiltration, and a secondary dressing that provides security against motility; together, they reduce the risk of bloodstream infection and device movement leading to dislodgement or infiltration ('tissuing').5 Integrated securement dressings are regarded as a 'next generation' dressing to improve stability of VADs, acting as both a primary and secondary dressing combined in one.6 7 Recent cohort studies and randomised control trials have shown significant improvements in rates of occlusion and catheter-associated bloodstream infections with these dressings.6
Increasing evidence suggests that cyanoacrylate glue (tissue adhesive) can be an effective securement technique following catheter insertion.8 Ongoing research suggests significant improvement in outcomes of peripheral intravenous and arterial as well as central venous devices when tissue adhesive is used in conjunction with standard polyurethane dressings.9 Although tissue adhesive is not a new technology, the nuanced use that is being adapted within vascular access is something that requires ongoing research and is not widely used outside the realm of clinical trials.9
References
1. Corley A, Ullman AJ, Mihala G, et al. Peripheral intravenous catheter dressing and securement practice is associated with site complications and suboptimal dressing integrity: A secondary analysis of 40,637 catheters. Int J Nurs Stud 2019;100:103409.
2. Corley A, Ullman AJ, Marsh N, et al. SECUREment bundles to prevent peripheral intravenous catheter failure-the SECURE-PIVC trial: study protocol for a pilot randomized controlled trial. Br J Nurs 2020;29(19):S40-S46.
3. Luo X, Guo Y, Yu H, et al. Effectiveness, safety and comfort of StatLock securement for peripherally-inserted central catheters: A systematic review and meta-analysis. Nurs Health Sci 2017;19(4):403-13.
4. Cordovani D, Cooper RM. A prospective trial on a new sutureless securement device for central venous catheters. Can J Anaesth 2013;60(5):504-5.
5. Larsen EN, Corley A, Mitchell M, et al. A pilot randomised controlled trial of dressing and securement methods to prevent arterial catheter failure in intensive care. Australian critical care : official journal of the Confederation of Australian Critical Care Nurses 2021;34(1):38-46.
6. Ullman AJ, Kleidon T, Gibson V, et al. Central venous Access device SeCurement And Dressing Effectiveness (CASCADE) in paediatrics: protocol for pilot randomised controlled trials. BMJ Open 2016;6(6):e011197.
7. Marsh N, Larsen E, Genzel J, et al. A novel integrated dressing to secure peripheral intravenous catheters in an adult acute hospital: a pilot randomised controlled trial. Trials 2018;19(1):596.
8. Kleidon TM, Rickard CM, Gibson V, et al. Smile - Secure my intravenous line effectively: A pilot randomised controlled trial of peripheral intravenous catheter securement in paediatrics. J Tissue Viability 2020;29(2):82-90.
9. Corley A, Marsh N, Ullman AJ, et al. Tissue adhesive for vascular access devices: who, what, where and when? Br J Nurs 2017;26(19):S4-S17.