Nathan Peters Awarded for ASUM AJUM Article of the Year Award
Posted on 16 October 2023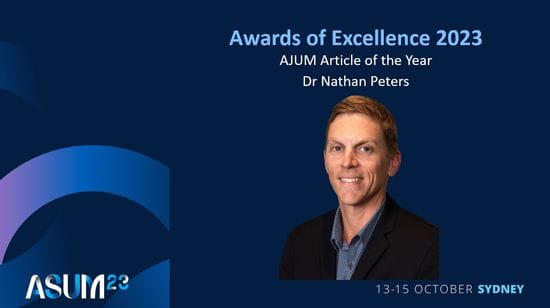 We're excited to share some fantastic news from the AVATAR team! Nathan Peters has been awarded the prestigious ASUM AJUM Article of the Year award in the 2023 Awards of Excellence in Ultrasound.
Nathan's groundbreaking article, titled 'Remotely supervised ultrasound-guided peripheral intravenous cannulation training: A prospective cohort study examining success rates and patient experience,' has had a significant impact on both the ASUM (Australasian Society for Ultrasound in Medicine) membership and the global ultrasound community.
The ASUM Awards of Excellence recognize outstanding achievements in the field of ultrasound, and Nathan's work has truly shone. His research not only advances the academic understanding of ultrasound but also has practical implications for patient care.
This award is a testament to Nathan's dedication and hard work, both academically and clinically. It reflects his commitment to pushing the boundaries of what's possible in the field of ultrasound.
Join us in congratulating Nathan on this well-deserved recognition! We're immensely proud to have him as a part of the AVATAR team.
Stay tuned for updates on the award announcement, and in the meantime, you can read Nathan's impactful article: https://www.ncbi.nlm.nih.gov/pmc/articles/PMC9644440/