Thank you, AVATAR Group!
Posted on 3 February 2017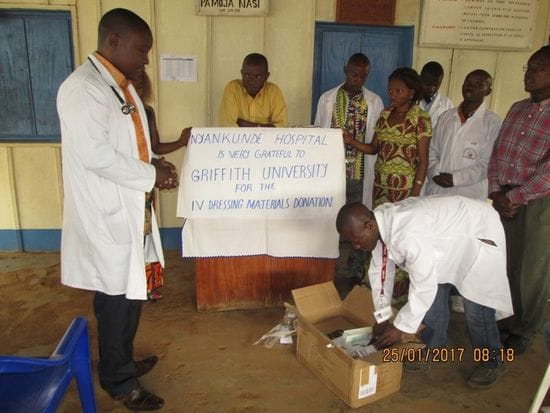 I am very happy to share with you the photographs of reception of the IV dressing materials our hospital in Nyankunde, Beni, Democratic Republic of the Congo, has received from Griffith University of Brisbane, Australia, with the support of Prof Claire Rickard and the AVATAR Group.
These materials will help to prevent peripheral catheter related infection and improve the healthcare in our hospital.
Prof Rickard and her team are permanently doing their best to improve the healthcare in our hospital. They have launched a huge campaign of fundraising for the purchase of an Ambulance for our hospital one year ago, and they promptly sent assistance for medical supplies during the humanitarian crisis in our city. We would love to hear from others who are thinking of the improvement of our healthcare.
Regarding the purchase of the Ambulance, our health workers have decided to join Prof Rickard's support by each person raising at least $5 per month in the months ahead. A new ambulance would address the challenge of healthcare workers having to walk 5 kms to work.
If you would like to assist our fundraising efforts, we would be very grateful.