Welcome to Brisbane, Maria Paula, Nurse Researcher from Brazil!
Posted on 23 March 2017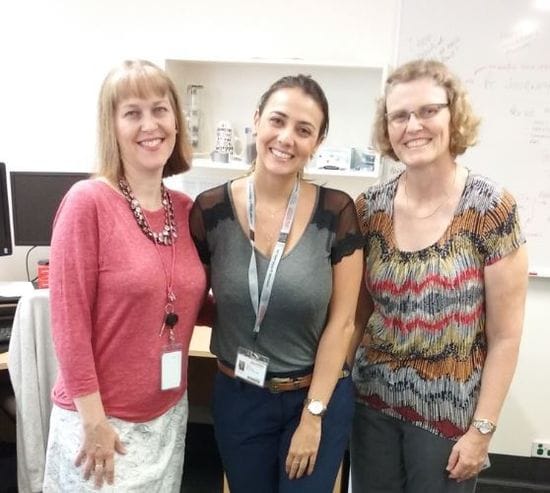 The Alliance for Vascular Access Teaching and Research (AVATAR) Group welcomes Visiting Research Fellow, Maria Paula de Oliveira Pires, to Brisbane.
Maria Paula is presently a PhD candidate of the Nursing Graduate Program at the Universidade Federal de São Paulo (UNIFESP-Brazil). Her doctoral research project, "Effect of infusion devices in hemolysis biomarkers levels of warmed red blood cells", is being supervised by Prof Mavilde L.G. Pedreira, RN, PhD, with Prof Claire Rickard from the AVATAR Group as a co-supervisor.
Maria Paula was a successful candidate in the competitive selection process at the UNIFESP and CAPES (Coordination for the Improvement of Higher Education Personnel of the Ministry of Education Brazil) of the Doctoral Degree Sandwich Scholarship Program, which enables her to study for three months at Griffith University.
This proposal is a result of agreements for possible international research partnerships between the SEGTEC (Safety, Technology and Care Nursing Research Group in Patient Safety, Critical Care and Intravenous Therapy) in Brazil and the AVATAR Group.
During her stay in Brisbane, Maria Paula will take advantage of a range of opportunities provided by AVATAR colleagues. She will visit hospitals and other Griffith University campuses, meeting with vascular access colleagues and exchanging ideas for future research collaborative projects.
The anticipated benefits from her participation in the activities proposed by the AVATAR Group includes the advancement of skills and knowledge related to research methods, data analyses, networking between research groups, and collaborating and participating in discussions of projects under Prof Claire Rickard's coordination.
Plenty of fun activities are also being planned to make sure Maria Paula enjoys Aussie hospitality and gets the most from her time in Brisbane!