Why catheter-to-vein ratio matters!
Posted by Gillian Ray-Barruel on 19 August 2021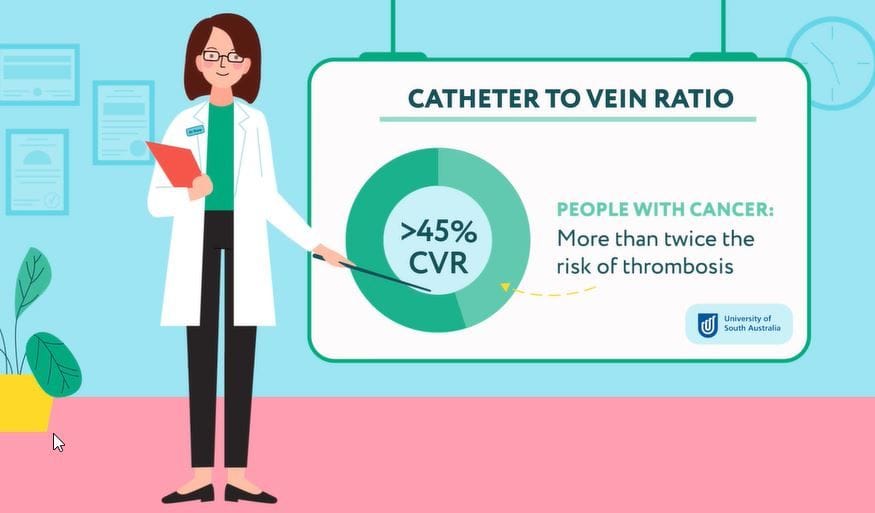 Did you know that certain catheter-to-vein (CVR) ratios can have twice the risk of thrombosis in patients with cancer?
Dr Rebecca Sharp from the University of South Australia (UniSA) and Australian Vascular Access Society has published a study in BMJ Open that analysed the outcomes of more than 2400 patients from 4 hospitals in Australia and New Zealand who received a peripherally inserted central catheter (PICC). The study found that up to 6% of patients with cancer who had received chemotherapy via their PICC experienced thrombosis. This was more than double the rate for patients who received a PICC for non-cancer treatments (2%).
This study confirmed that the risk of thrombosis is much higher in patients receiving intravenous chemotherapy via a PICC, and checking catheter-to-vein ratio is particularly important. In fact, if the veins are too small and the catheter occupies more than 45% of the diameter of the vein, the risk of blood clots and thrombosis is more than doubled for this population.
To learn more, watch this brilliant 3 minute video, with Dr Sharp explaining her results.
Reference
Sharp R, Carr P, Childs J, Scullion A, Young M, Flynn T, . . . Esterman A. Catheter to vein ratio and risk of peripherally inserted central catheter (PICC)-associated thrombosis according to diagnostic group: a retrospective cohort study. BMJ Open 2021;11(7):e045895

Author:
Gillian Ray-Barruel
About: Dr Gillian Ray-Barruel is a leading nurse researcher who coordinated the OMG Study which recruited more than 40,000 patients with PIVCs globally. Dr Ray-Barruel holds a joint appointment as a Senior Research Fellow at QEII Jubilee Hospital and Griffith University, Brisbane, Australia. She has extensive experience in vascular access devices research, critical care nursing, patient assessment, and project management. Dr Ray-Barruel is dedicated to improving assessment and decision-making by bedside clinicians to prevent patient complications and improve healthcare outcomes.
Connect via:
Twitter
LinkedIn