Management of PIVCs - Clinical Care Standard
Posted by Gillian Ray-Barruel on 9 June 2021
Safe and effective insertion, maintenance and removal of Peripheral Intravenous Catheters has never been easier.
The new Management of PIVC Clinical Care Standard by the Australian Commission on Safety and Quality in Health Care provides straightforward, evidence-based guidance for clinicians. It also describes the care that patients should expect to receive if they have a PIVC inserted during a hospital stay.
For further information and downloadable resources for clinicians and patients, click here.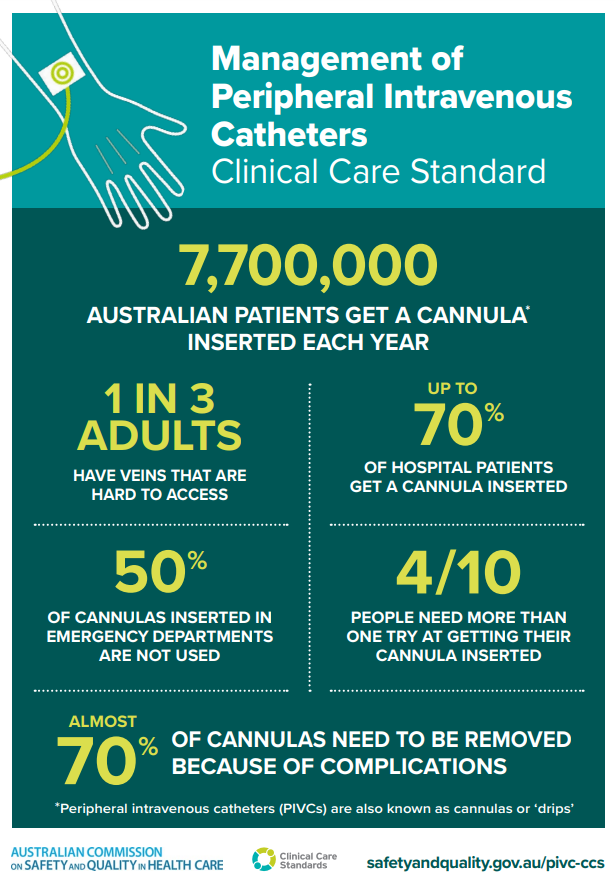 Author:
Gillian Ray-Barruel
About: Dr Gillian Ray-Barruel is a leading nurse researcher who coordinated the OMG Study which recruited more than 40,000 patients with PIVCs globally. Dr Ray-Barruel holds a joint appointment as a Senior Research Fellow at QEII Jubilee Hospital and Griffith University, Brisbane, Australia. She has extensive experience in vascular access devices research, critical care nursing, patient assessment, and project management. Dr Ray-Barruel is dedicated to improving assessment and decision-making by bedside clinicians to prevent patient complications and improve healthcare outcomes.
Connect via:
Twitter
LinkedIn